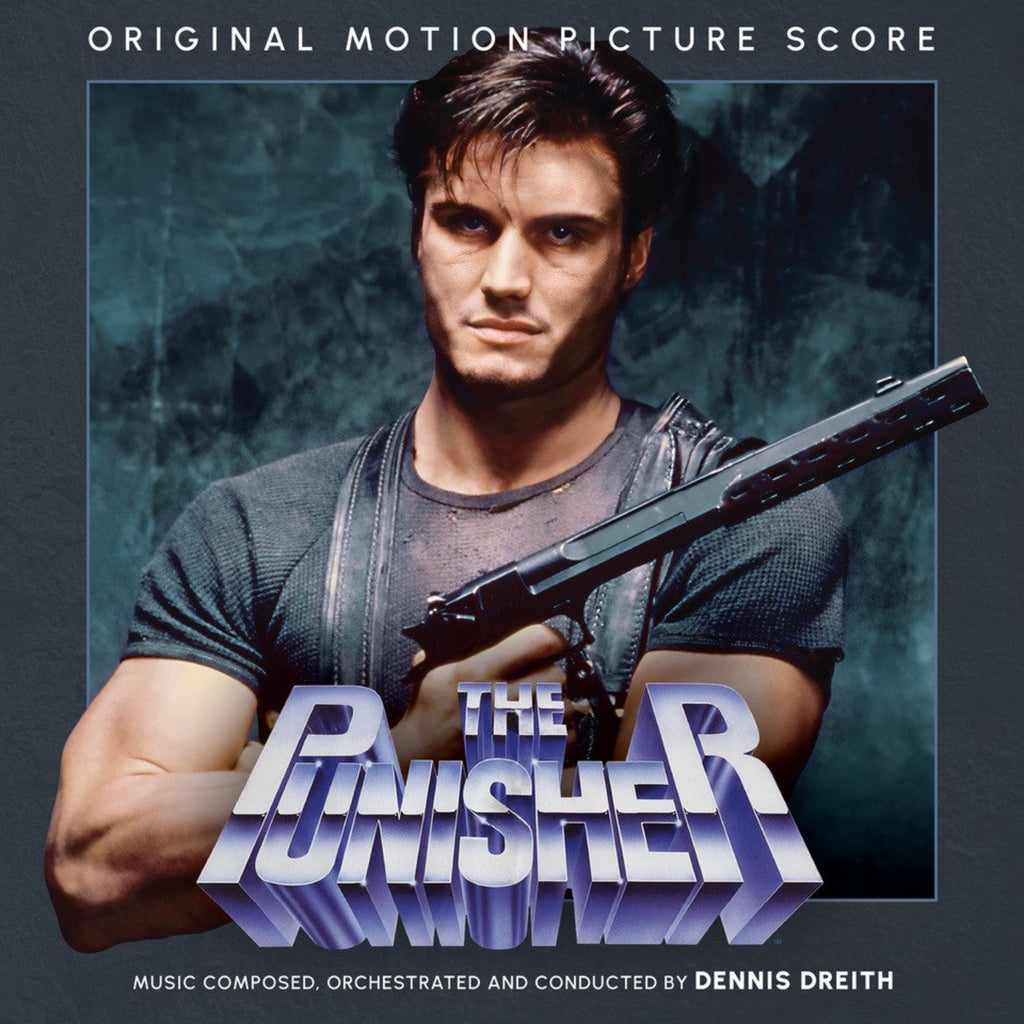 Notefornote Music
The Punisher by Dennis Dreith (Limited Edition CD)
PRE-ORDER - CDs should arrive the week of September 4 for shipping. 
Limited edition of 500 CDs!  Dennis will be signing up to 100 CD booklets (included with purchase) for the first customers to order this CD.  First come, first served.  He will have these signed by the time we start shipping.  

This is a reissue of the original score only.  We have had customers ask us to consider releasing this on vinyl so we found the rights holders and got the deal done.   Having seen barely any CDs on the aftermarket made us realize a whole generation of Punisher movie fans may want a CD released.  We hope you enjoy this.

Notefornote Music is proud to reissue the original score to The Punisher by Dennis Dreith.  The Punisher is the 1989 feature film debut of the popular comic book character played by 80s action star, Dolph Lundgren.  
Dolph Lundgren is Frank Castle an ex-cop who lives in the sewers and acts as judge, jury, and executioner to the city's criminals in retaliation for the unpunished murders of his wife and kids. Frank's ex-partner Jake (Louis Gossett Jr.) finally catches up with the vigilante as he tries to stop the Japanese mob, which is trying to take over the city's mafia operation.
Dennis Dreith has been the composer for such films as Purple People Eater (1988) and The Punisher (1989). He also known in the industry as an orchestrator and conductor of film music scores. His work can be heard in the soundtracks of Jurassic Park, Misery, Braveheart, Addams Family Values, Sleepless in Seattle, Heart and Souls, A League of Their Own and others. He has orchestrated and conducted for several well-known composers including John Williams, Lalo Schifrin, Dominic Frontiere, Marc Shaiman, Hans Zimmer, Elliot Goldenthal, Mark Isham and Cliff Eidelman.

TRACK LIST:
1. "Main Title" 2:20
2. "Follow Dino" 0:18
3. "Welcome Home Dino" 1:14
4. "Dino Bites the Dust" 0:26
5. "Praying For A Flashback" 1:05
6. "Perfectly Frank" 0:24
7. "Harbor Shoot-em-up" 4:24
8. "Punisher M.D." 0:48
9. "Tanaka Meets Franco" 1:13
10. "Tanaka and The Punisher" 1:07
11. "Suffer The Children" 1:25
12. "Path to Tanaka" 0:34
13. "Chopin" 1:02
14. "Party Pooping Punisher" 1:52
15. "The Pier" 1:39
16. "The Funhouse" 0:51
17. "Funhouse Shoot Out" 2:34
18. "Pretty Poison" 1:53
19. "Harbor Aftermath" 1:41
20. "The Mission" 1:03
21. "Armored Car" 0:41
22. "Choose Your Weapon" 0:56
23. "Bullet Proof Bus" 4:51
24. "Mini Nightmare" 0:32
25. "Class Dismissed" 2:21
26. "Wake Up" 1:46
27. "Pain In The Neck (Tanaka's Last Stand)" 3:53
28. "Goodbye Castle" 3:51
29. "Punisher Signature" 0:36
30. "End Title" 4:22
---
More from this collection