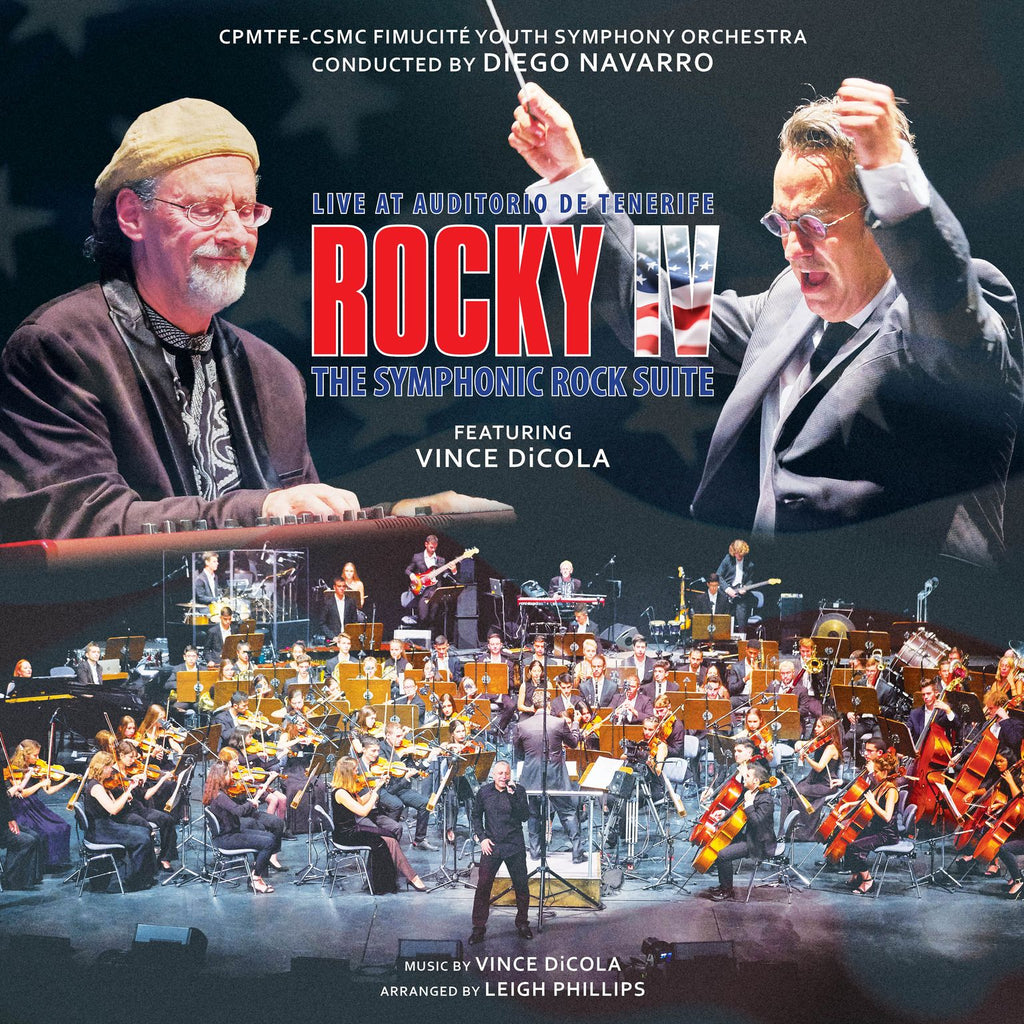 Notefornote Music
Vince DiCola: Rocky IV - The Symphonic Rock Suite (Vinyl LP)
PRE-ORDER - Should arrive and ship by 3rd week of September. 
IF these do not arrive by the September 15 and you do not want to wait beyond that, let us know and a refund will be provided.  Just hit us up and we will take care of it.  
Limited edition of 300 LPs!  Vince will be signing up to 100 copies of the LP for the first customers to order this LP.  First come, first served.  He will have these signed by the time we get our product to ship.

This release comes in 4 different colors.  85 each of Red, White, Blue AND around 50 random bonus copies will have all colors combined!  They are packaged so we don't know what color will be in your order so know this when you place your orders.  We used pristine sources for this release.  2424 Vinyl (Michigan) is handling our manufacturing (they did the last couple releases we have put out - TV Tiki Tunes and 50 States of Fright and the quality was phenomenal).
Notefornote Music is proud to be partnering with Fimucité to release composer Vince DiCola's Rocky IV: The Symphonic Rock Suite. 
Recorded live at the 13th edition of the Tenerife International Film Music Festival (Fimucité).  Arranged by Leigh Phillips, conducted by Diego Navarro and performed at the Auditorium of Tenerife by the CPMTFE-CSMC Fimucité Youth Symphony Orchestra, composed of students from the Professional Music Conservatory of Santa Cruz de Tenerife and of the Conservatory of Music of the Canary Islands this landmark world premiere concert featured Vince on keyboards performing his compositions from the film. 
This is an EP presentation for physical music collectors and fans of Vince DiCola.  The program runs just under 20 minutes so the special price reflects this!
CREDITS:
Performed and Composed by Vince DiCola
Conductor:  Diego Navarro
Arranged by Leigh Phillips
Orchestra:  CPMTFE-CSMC Fimucité Youth Symphony Orchestra
Lead Vocals: Marc Quee 
Backing Vocals: Patty Gonzalez 
Electric Guitar: Juan de Araoz
Electric Bass: Fran Suarez
Drums: Basilio Gomez
FIMUCITÉ Producer: Pedro J. Mérida
Executive Producers for Notefornote Music: Bryon Davis and Peter Hackman
Album Art Direction: Herman Owen
Mastered by Kenny Meredieth
Mastered for Vinyl by James Nelson at Digital Outland

TRACK LIST Side A (track list repeated on Side B):
1 Training Montage (7:14)
2 Heart's On Fire/Up the Mountain (Performed by Marc Quee & Patty Gonzalez) (6:11)
3 War (6:32)
---
More from this collection