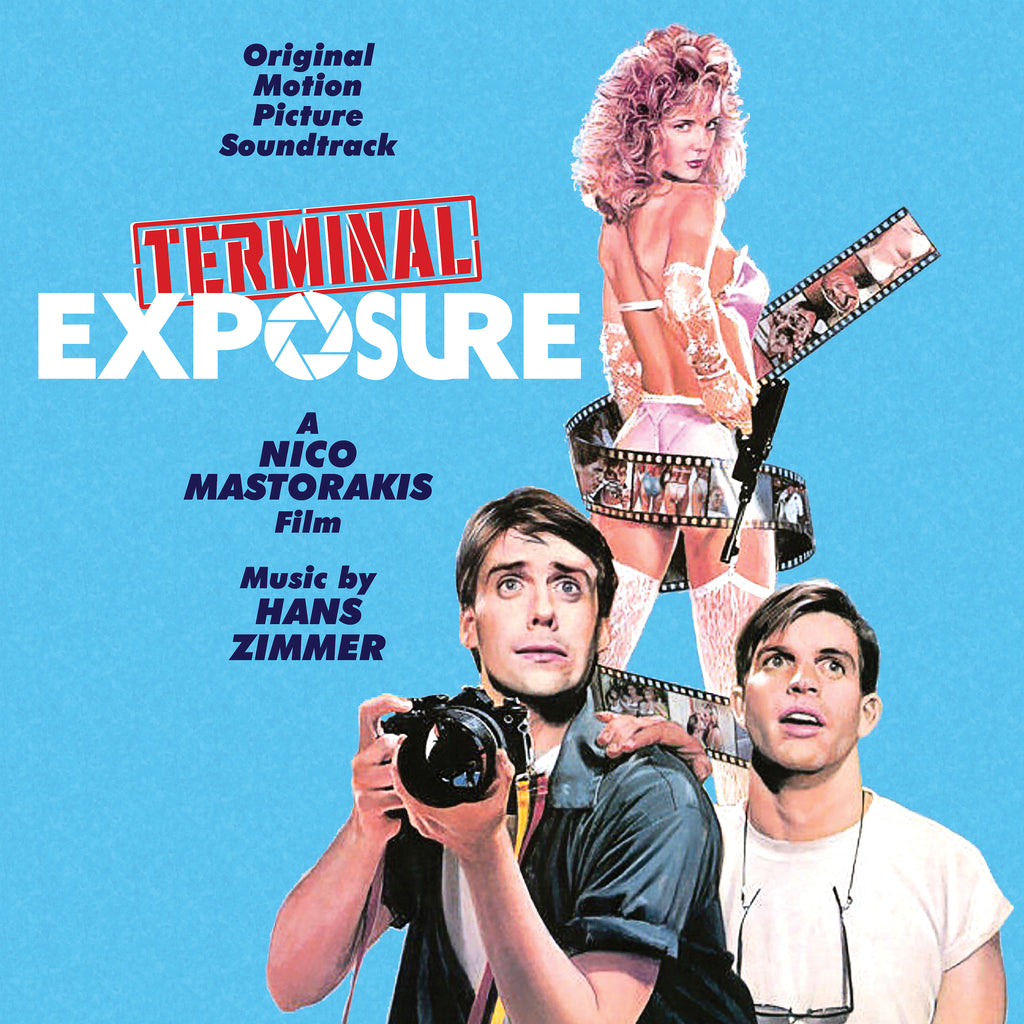 Notefornote Music
Terminal Exposure by Hans Zimmer (CD)
NOW SHIPPING!
Limited edition of 1,000 copies. 

Terminal Exposure is a 1987 action comedy starring Hope Marie Carlton, John Vernon, Joe Estevez, Mark Hennessy & Ted Lange.  Written & directed by Nico Mastorakis.  Two beach combing-shutterbugs accidentally capture a murder on film. Now detectives, the boys set out to capture a murderess shot only from behind, with a rose tattoo on her behind.  Fun in the sun turns dangerous when they end up shooting bullets instead of film.
Featuring music by Hans Zimmer & never before released on CD!  Also included are cues by Mel Wesson & Roger Bolton.  This is a rollicking synth score for fans of that '80's' sound that so many of us loved from that decade. 
Terminal Exposure
Original Motion Picture Soundtrack
Music by Hans Zimmer
NFN Catalog # NFN-1026
UPC: 850001545471


Music Composed & Performed by Hans Zimmer
Additional Music by Mel Wesson and Roger Bolton
Music Recorded at Lillie Yard Studios, London
Executive Producers for Notefornote: Bryon Davis & Peter Hackman
Art Design: Herman Owen
Mastered for Notefornote Music by James Nelson at Digital Outland
Fully licensed & approved to Notefornote Entertainment by Omega Entertainment, Inc. 
(c) (p) 1987, 2021 Omega Entertainment, Inc.
Track List:
02 Topless Girls (Wesson) (0:48)
03 Picture Show / Deadly Shot (Zimmer) (2:11)
06 Off To Vegas / Drive Off / On A Vegas Street (Wesson) (1:56)
07 Eskenazy Grasses / Eskenazy Tails (Bolton) (2:31)
08 Boys Warning / Christie's Appointment / Surprise (Zimmer) (1:51)
09 Strip Theme / High Rise / Christie's Shot / Deadly Deal (Zimmer) (2:12)
10 Guns Away / Let's Run (Wesson) (2:33)
11 Bruce Plays Goosbury (Wesson) (1:39)
12 We're Gonna Give It To Him (Wesson) (2:47)
13 Soapy Suds 
/ Marlow's Theme / Bush Baby's Blues / Enter The Guards (Zimmer) (3:21)
14 Wet Cats (Zimmer) (2:14)
15 Boys Release / Lenny Clicks / Rumbled (Zimmer) (3:11)
16 Blind Attack (Wesson) (0:39)
18 Skiers Take Off  / Undercover Fantastique / Screaming In The Sunset (Zimmer) (2:51)
---
More from this collection