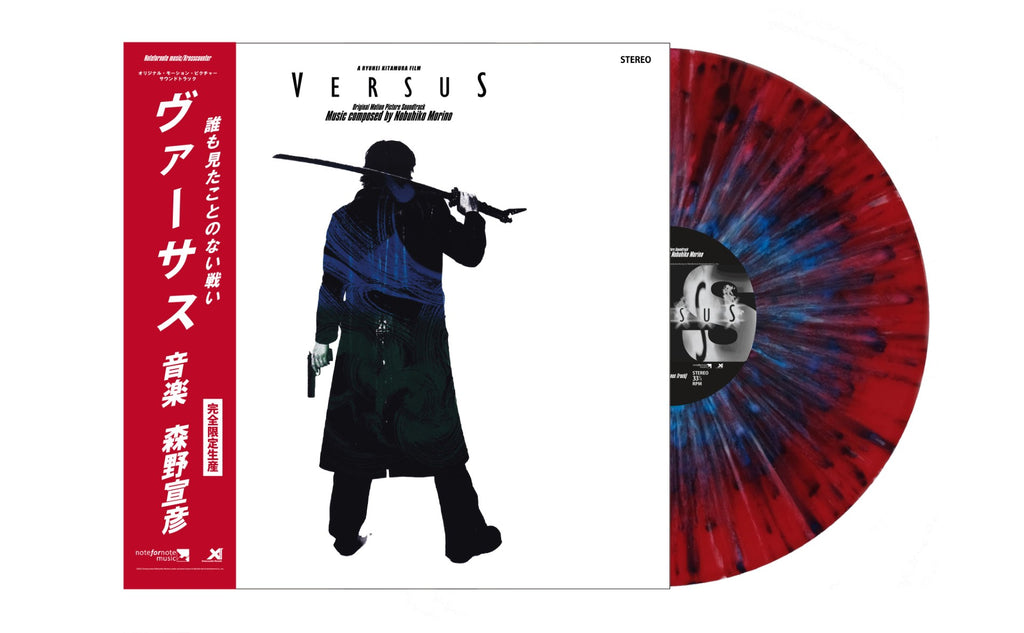 Notefornote Music
Versus Original Soundtrack by Nobuhiko Morino (Vinyl LP)
PRE-ORDER - Should arrive and begin shipping by January 21, 2024. We don't anticipate any delays per the plant.  
Limited edition of 60 LPs direct from our label website (for our loyal customers), once we sell out on the website we most likely won't offer it anymore (300 total being made worldwide).  You can either buy from us, Amazon or your favorite music store (online or physical location) as we have a pretty darn good distribution partner.  We figured we'd offer this to those who like to buy and support the label directly.

Special edition color of Eternal Battle Splattered LP (See pic).  This 2LP set features gatefold packaging with a Japanese style OBI strip.
For the first time ever comes a 2-LP vinyl release of the soundtrack from the acclaimed Japanese horror/action film, Versus.  The feature film debut from one of Japan's most exciting directors, Ryuhei Kitamura (Godzilla: Final Wars, Midnight Meat Train, Lupin The 3rd).  Versus caused a sensation both in Japan and internationally upon its release, in 2000, and to this day is a cult classic worldwide.
The movie is a relentless one-of-a-kind sensory assault chock full of hyper-kinetic fight scenes, gangster shootouts, sword-slashing violence and gory zombie horror, Versus was a key title amongst the barrage of innovative horror and action movies that appeared as if from nowhere from Japan at the turn of the millennium, leading to a new wave of appreciation for Asian extreme cinema. The pulse pounding score is composed by longtime Ryuhei Kitamura collaborator and high school friend, Nobuhiko Morino.  
TRACK LIST Side A:
A1 Beginning The Past (3:02)
A2 Escape (1:08)
A3 Big Trouble On The Way (2:24)
A4 I'm A Feminist (3:08)
A5 One Shot (1:27)
A6 Dead Alive (2:09)
A7 Across The Time (1:35)
A8 One On One (1:17)
A9 Kill Them Twice (3:11)

TRACK LIST Side B:
B1 Join The Party (2:32)
B2 I'm A Fighter (2:16)
B3 The Assassins (0:39)
B4 One Man Army (1:43)
B5 The Resurrection (1:30)
B6 Reveal (2:15)
B7 Love And Death (1:23)
B8 The Truth (2:44)
B9 Total Chaos (1:57)
TRACK LIST Side C:
C1 Showdown (3:19)
C2 The Fate (3:45)
C3 Out Of The Cage (2:46)
C4 Versus (3:38)
C5 The Last Key (ultimate versus) (5:16)
TRACK LIST Side D:
D1 Versus Making Trailer (4:29)
D2 Versus Trailer 1 (1:43)
D3 Versus Trailer 2 (1:43)
D4 Down To Hell (remaster) (1:57)
D5 Versus Mix 2021 (4:20)
D6 Versus 20th Anniversary Version (5:01)

---
More from this collection