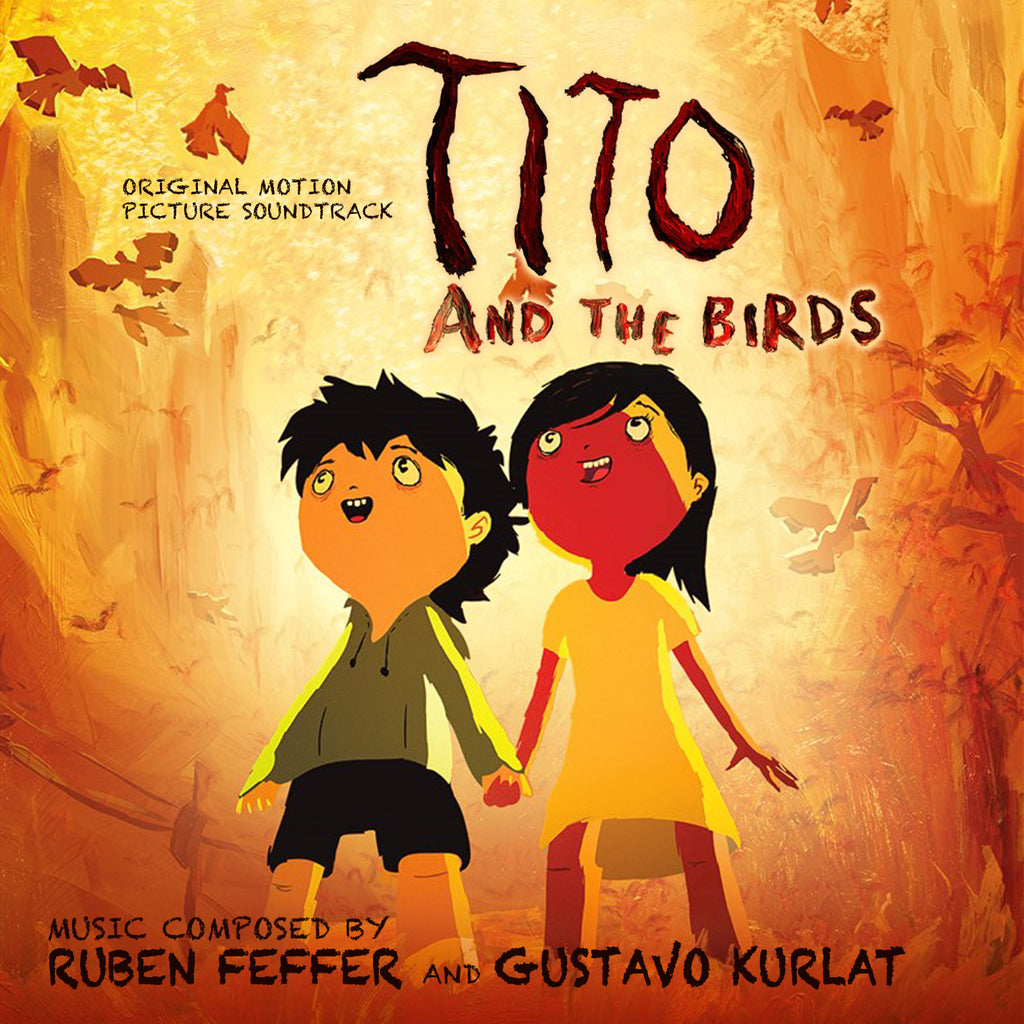 Notefornote Music
Tito And The Birds by Ruben Feffer and Gustavo Kurlat (24 bit / 48k digital only)
DIGITAL ONLY - 24/48khz file only - not a CD.
"Standing up to the visuals with equal muscle is a tremendous, Zimmer-esque score by Ruben Feffer and Gustavo Kurlat — also vital contributors to "Boy and the World" — whose clattering, dissonant merging of orchestral and rumbling synthetic elements ensures that fear will not be defeated quietly." - Variety

"The score by Gustavo Kurlat and Ruben Feffer goes beautifully hand-in-hand with the brushstrokes of the oil paintings to create an overall feeling of wonder and dread" - AZCentral.com
""Tito and the Birds," powered by an excellent score from Ruben Feffer and Gustavo Kurlat, is especially good at conveying the spread of mass hysteria." - L.A. Times
These are many of the glowing reviews for both the film and the score by Ruben Feffer and Gustavo Kurlat.  Notefornote Music is proud to be releasing this score as part of our expansive catalog of releases from talented up and coming composers who are opening eyes (and ears) around the world.
Tito And The Birds is the highly acclaimed animated film from Brazil.  The film features what one reviewer called a "Hans Zimmer-esque" original score composed by Gustavo Kurlat and Ruben Feffer (2016 Oscar nominee for best animated feature Boy and the World).
Ruben Feffer is a composer, keyboard player, arranger, musical producer and director. One of the greatest talents in Brazilian film music, he has scored the 2016 Oscar nominated and Annecy winner "Boy and the World". He is also musical director of a number of TV shows, aired by networks such as Cartoon Network, Nickelodeon, Disney, Discovery, SporTv, Fox, Netflix and Amazon. Ruben studied piano, composing and arranging with private classes and with courses at Manhattan School of Music and Berklee College of Music. His artistic talent and the companies he created guarantee a powerful combination for successful projects. "I don't feel that I create the score, I believe I find it. I find the music that was already there, at dialogues, at the script, at the colors." Author, musician, composer, translator, educator, speaker, director and musical director of theater and cinema.

Gustavo Kurlat was director of the shows of "Palavra Cantada" (APCA Award 2008 for Best Show) from 2000 to 2009, and directed his 20-year show this year. He is co-writer and composer of the soundtrack for the animated feature film "Garoto Cósmico", by Alê Abreu in partnership with Ruben Feffer. The film has received several awards in several countries. In 2007, he produced the CD Canciones Curiosas, Palavra Cantada in Spanish, with Brazilian, Argentine, Colombian, Uruguayan and Cuban artists, coordinating the versions and creating most of them. Also in partnership with Ruben Feffer, he composed and produced the soundtrack for the animated feature "O Menino ea o Mundo" and for the short film "Guida", both with numerous awards around the world, among others the festival of Annecy, in France, of best music at the Lisbon festival, "Anima Mundi" 2014. He wrote and directed "Uma Trilha para sua História", APCA award for best dance show for children in 2013.
Tito And The Birds
Music Composed by Ruben Feffer and Gustavo Kurlat
NFN Catalog # NFN-9013
UPC: 760137410270

Music composed and Produced by Ruben Feffer and Gustavo Kurlat

Musicians:
Ruben Feffer: Keyboard
Gustavo Kurlat: Voice
Vitor Zafer: Keyboard, Drums, Guitar
Orquestra Solaris: Strings
Ubaldo Versolato: Flute and Clarinet
Igor Picci: Bass Clarinet
Anamaria Leme: Voice
Marcelo Pretto: Voice
Executive Music Producer for bits.productions: Gustavo Steinberg
Executive Producers for Notefornote Music: Bryon Davis
Art Director: Mark Banning
Track List:
1 Overture
2 Flashback
3 Tito And The Birds
4 Science Fair
5 Dream
6 Alaor
7 Dome Garden
8 Back To The Mansion
9 Climb
10 Flight
11 Avoid All
12 Training Video
13 Hospital
14 Level 4
15 Pigeons
16 Pursuit
17 Different Pigeon
18 Helicopter
19 Fear
20 Finale
---
More from this collection