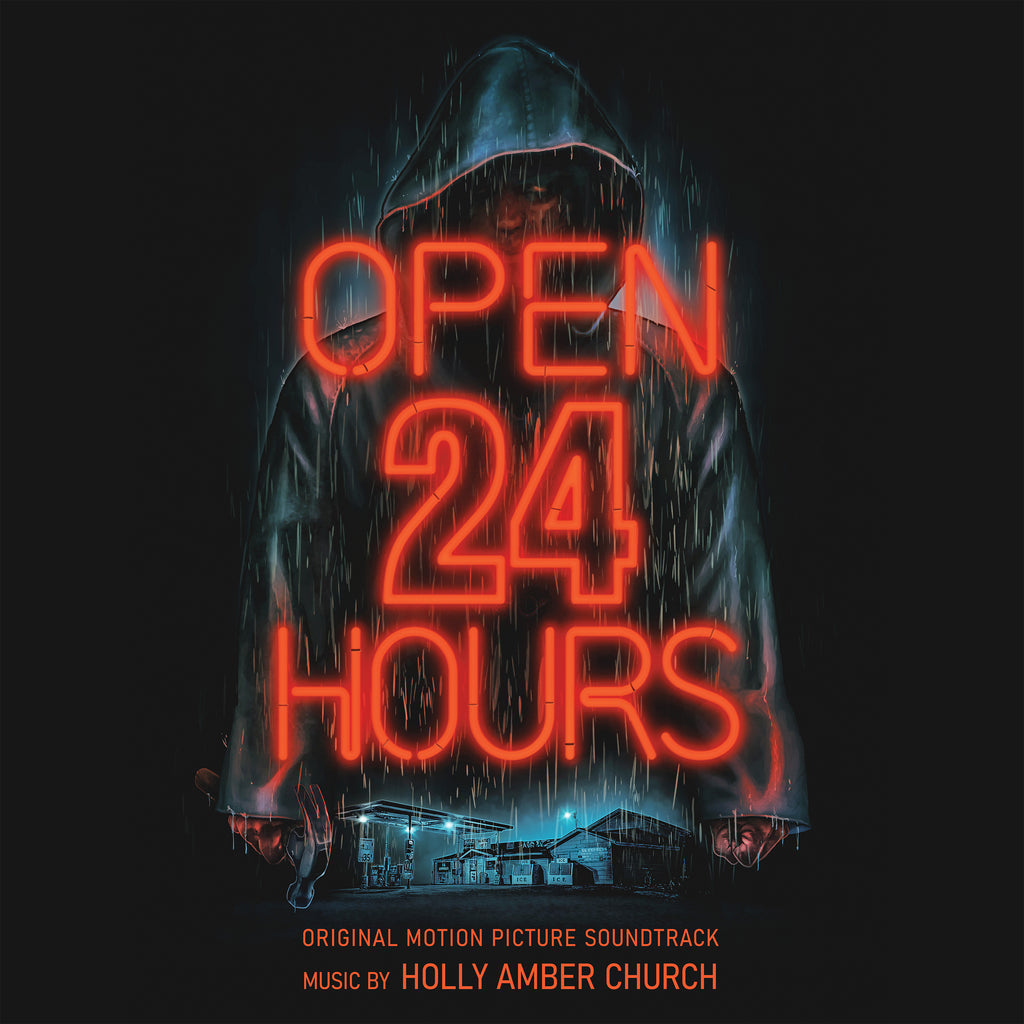 Notefornote Music
Open 24 Hours by Holly Amber Church (Vinyl LP + 24 bit download)
150 limited edition LP in Neon Red vinyl.  First 50 copies will include a signed jacket by the composer, Holly Amber Church.  
Each order will receive a 24 bit high res download upon purchase.

LESS THAN 50 COPIES REMAIN.
Open 24 Hours is the newest horror film from Director Padraig Reynolds.   Mary is a very troubled woman who gets a job at a convenience store after setting her assassin boyfriend on fire. As she starts her graveyard shift at the Deer Gas Market, she is haunted by flashbacks.

The movie features music by Composer Holly Amber Church.  The score is dark, moody and intense. At its core is a haunting, somber theme for Mary, the film's protagonist, while swirling around it is a blend of gritty electronic elements and distorted neon sounds to reflect the chaos that Mary finds herself in as she struggles to survive her first shift working at an all-night gas station.
Open 24 Hours
Music By Holly Amber Church
NFN Catalog # NFN9035LP
UPC: 850001545327

Album Produced by Bryon Davis
Edited by Padraig Reynolds and Holly Amber Church
Mastered by Chas Ferry
Album Art Direction by Edwin Wendler
Music Recorded and Mixed by Holly Amber Church at Pacific Seas Studios
COMPOSER WOULD LIKE TO THANK:  Padraig Reynolds, Peter Hackman, Bryon Davis, Josh Eckberg, Ed Marx, Raj Purohit, Chas Ferry, Edwin Wendler
Track List:

SIDE A:
1 Open 24 Hours: Main Titles
2 Bathtub Drowning
3 Canton Square
4 Debbie Downer
5 James On Fire
6 Mary's Story
SIDE B:
1 The Bloody Bathroom
2 Watch Me Mary
3 Do You Remember Her?
4 The Car Graveyard
5 Deerly Departed
6 End Of Shift

---
More from this collection