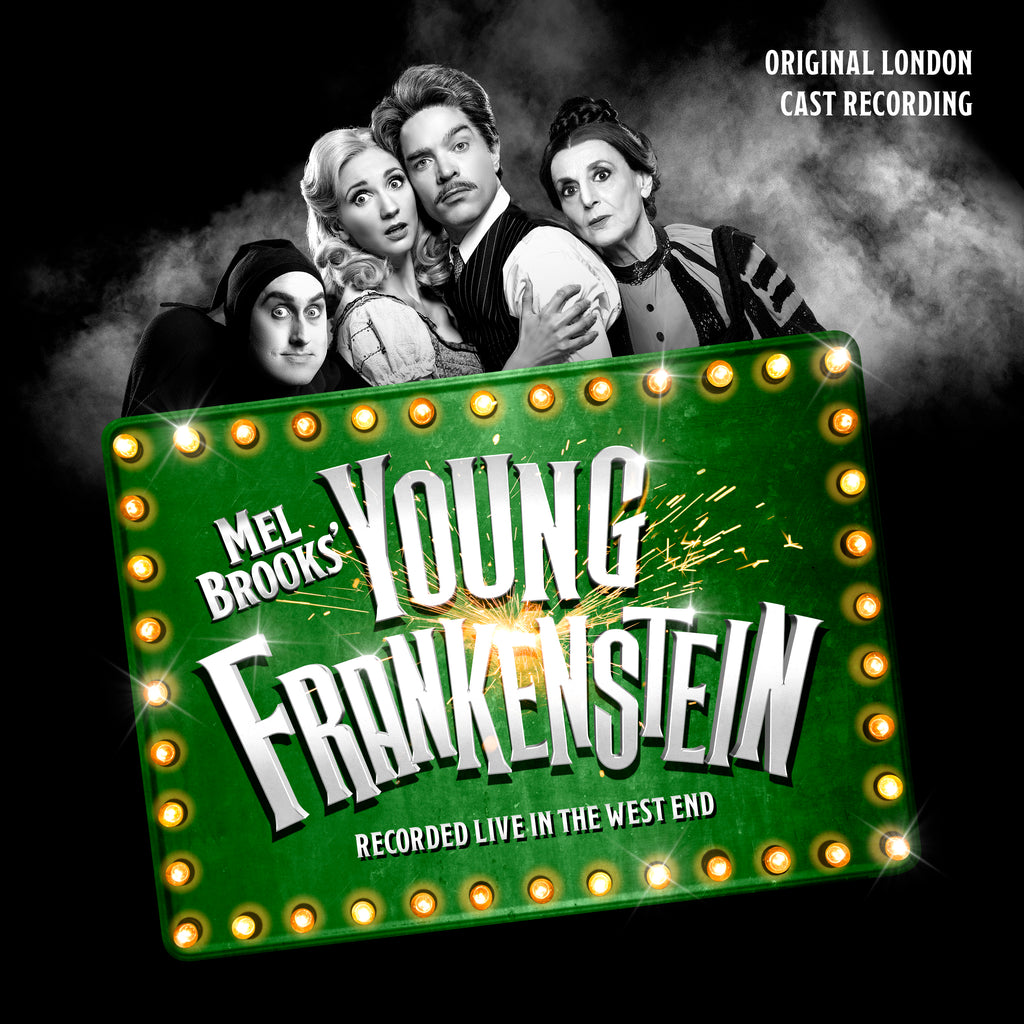 Notefornote Music
Mel Brooks' Young Frankenstein: Original London Cast Recording (LP+24 bit digital bundle)
All purchases include a link to download a 24/96 digital album. 

Legendary filmmaker and comedian Mel Brooks brings his classic monster musical comedy Young Frankenstein to life on stage in a musical collaboration with Tony-award winning Broadway director and choreographer Susan Stroman.  Recorded live in London's West End.
Grandson of the infamous Victor Frankenstein, Dr. Frederick Frankenstein (pronounced 'Fronk-en-steen') inherits a castle in Transylvania leading him to fulfill his grandfather's legacy by bringing a corpse back to life. With help and hindrance from hunchback henchman Igor, buxom assistant Inga and needy fiance Elizabeth, his experiment yields madcap success and monstrous consequences.
Mel Brooks' Young Frankenstein: Live In The West End
Original London Cast Recording
NFN Catalog # NFN-1021
UPC: 850001545365

BOOK BY MEL BROOKS AND THOMAS MEEHAN
MUSIC AND LYRICS BY MEL BROOKS
BASED ON THE STORY AND SCREENPLAY BY GENE WILDER AND MEL BROOKS AND ON THE ORIGINAL MOTION PICTURE BY SPECIAL ARRANGEMENT WITH TWENTIETH CENTURY FOX PRESENTED BY MICHAEL HARRISON, FIERY ANGEL AND KEVIN SALTER

STARRING HADLEY FRASER, LESLEY JOSEPH, ROSS NOBLE, DIANNE PILKINGTON, SUMMER STRALLEN WITH PATRICK CLANCY & NIC GREENSHIELDS AND IMOGEN BROOKE, MATT CRANDON, BETHAN DOWNING, NATHAN ELWICK, KELLY EWINS-PROUSE, ANDREW GORDON-WATKINS, SAMMY KELLY, PERRY O'DEA, RICHARD PITT, HARRIET SAMUEL-GRAY, GEMMA SCHOLES, EMILY SQUIBB, MATTHEW WHENNELL-CLARK, ARON WILD, JOSH WILMOTT
SET DESIGN: BEOWULF BORITT
COSTUME DESIGN: WILLIAM IVEY LONG
LIGHTING DESIGN: BEN CRACKNELL
SOUND DESIGN: GARETH OWEN
WIGS & HAIR DESIGN: PAUL HUNTLEY
CASTING DIRECTOR: JILL GREEN CDG
ARRANGEMENTS ORIGINAL MUSIC SUPERVISION: GLEN KELLY
MUSICAL DIRECTION: ANDREW HILTON
ORCHESTRATIONS: DOUG BESTERMAN
ADDITIONAL ORCHESTRATIONS: MARK CUMBERLAND
MARKETING: AKA
PRODUCTION MANAGEMENT: SAM PATERSON
PRESS REPRESENTATION: TARGET LIVE
ASSOCIATE CHOREOGRAPHER: RICHARD PITT
ASSOCIATE DIRECTOR: NIGEL WEST
GENERAL MANAGEMENT: FIERY ANGEL

DIRECTION & CHOREOGRAPHY: SUSAN STROMAN
RECORDED LIVE AT THE GARRICK THEATRE BY MIKE RYLES & ROB JONES
MASTERED BY ANDY WATER AT ABBEY ROAD STUDIOS

ALBUM PRODUCED AND MIXED BY PAUL GATEHOUSE
CAST ALBUM MUSICAL SUPERVISION: ANDREW HILTON
ORIGINAL LONDON CAST RECORDING ALBUM EXECUTIVE PRODUCED BY MEL BROOKS AND KEVIN SALTER
EXECUTIVE ALBUM PRODUCERS FOR NOTEFORNOTE MUSIC: BRYON DAVIS, PETER HACKMAN, CRAIG ROGERS AND JEFF BALLINGER
ADDITIONAL MASTERING (CD & VINYL): CHAS FERRY
ART DIRECTION: SCOTT SASLOW

*ORIGINAL "TRANSYLVANIAN LULLABYE THEME" BY JOHN MORRIS
Track List:
SIDE A:
ACT I
1. OVERTURE*
2. THE BRAIN
3. PLEASE DON'T TOUCH ME
4. TOGETHER AGAIN
5. ROLL IN THE HAY

SIDE B:
6. HE VAS MY BOYFRIEND*
7. IT COULD WORK*
8. HANG HIM TIL HE'S DEAD
9. THE EXPERIMENT*
10. HE VAS MY BOYFRIEND (REPRISE)
11. WELCOME TO TRANSYLVANIA
12. TRANSYLVANIA MANIA
SIDE C:
ACT II
13. HE'S LOOSE
14. LISTEN TO YOUR HEART
15. SURPRISE
16.PLEASE SEND ME SOMEONE
SIDE D:
17. PUTTIN' ON THE RITZ
18. DEEP LOVE*
19. HANG THE DOCTOR*
20. DEEP LOVE (REPRISE) AND FINALE
21. FINALE – TOGETHER AGAIN
22. THE BOWS
23. EXIT MUSIC*
---
More from this collection