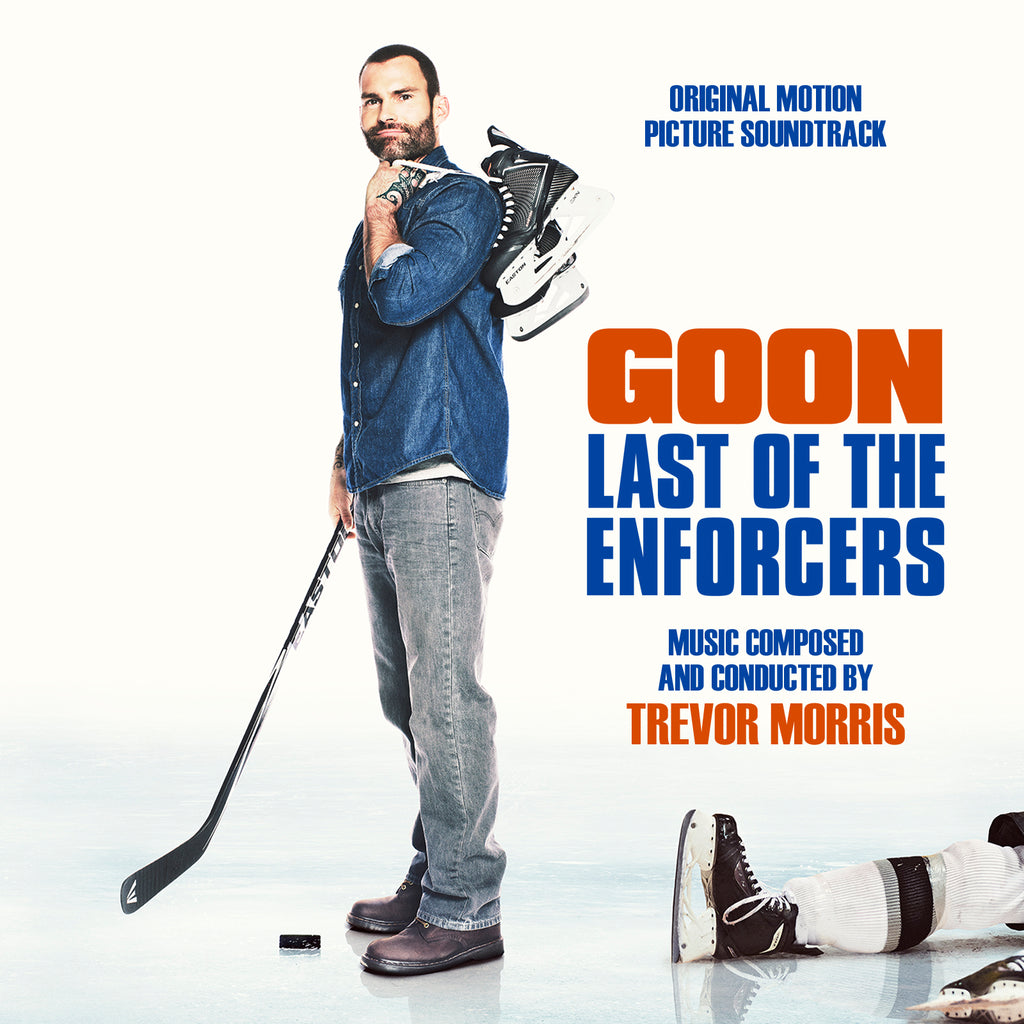 Notefornote Music
Goon: Last Of The Enforcers by Trevor Morris (24 bit / 44.1k digital only)
DIGITAL ONLY - 24/44.1khz file only - not a CD.
Featuring music by Emmy award winning composer Trevor Morris (The Vikings, Castlevania, The Tudors, Iron Fist, Olympus Has Fallen). 
A lockout has reunited old teammates and brought a crew of new players to the bench for the Halifax Highlanders. Sidelined after one too many hits and now married with a baby on the way, Doug "The Thug" Glatt hangs up his skates and settles into life as an insurance salesman. But when Doug's nemesis, Anders Cain, is made captain of the Highlanders and new ownership threatens to tear his team apart, Doug is compelled back into action.  The film is directed by Jay Baruchel (She's Out Of Your League, How To Train Your Dragon, This Is The End) and stars Seann William Scott (American Pie, Lethal Weapon) who reprises his role as Doug "The Thug" Glatt. 
Goon: Last Of The Enforcers
Music Composed and Conducted by Trevor Morris
NFN Catalog # NFN-9005
UPC: 866661000472
Music Composed and Conducted by Trevor Morris
Score Produced by Trevor Morris
Score Recorded at Glenn Gould Stage – Toronto, Canada
Orchestration: David Andrew Shipps
Orchestra Contractor: Lenny Solomon
Concertmaster: Mark Skazinetsky
Sound Engineer: Dennis Patterson
Pro Tools Engineer: Paul Talbott
Score Mixed by James T. Hill

Additional Music: Sunna Wehrmeijer, Steven Richard Davis
Featured Bagpipes: Matt MacIsaac
Score Supervisors: Matthew Blocha, Etienne Monsaingeon

Executive Producers for Notefornote Music: Bryon Davis and Daniel Schweiger
Mastering Engineer: James Nelson at Digital Outland
Art Direction for Notefornote Music: Mark Banning
Track List:
1.    It's Not Delivery, It's Sports Centre (1:37)
2.    Doug's Captaincy Speech (1:25)
3.    Anders Arrives (0:36)
4.    Glatt / Cain Rivalry (0:46)
5.    Tensions Rising / Cain Fights (1:49)
6.    I'm Proud Of Us (Doug and Eva's Theme) (1:01)
7.    Highlanders Failing (0:48)
8.    Doug Opens His Present (0:39)
9.    Doug Missing His Team / Left Hand! (1:17)
10.    Rhea and Doug Reunite (1:53)
11.    Doug Signs The Waiver (0:37)
12.    Doug and Rhea / Last Men Standing (1:55)
13.    Anders Taunts Doug (1:02)
14.    Ultrasound (2:07)
15.    Doug / Totan Staredown (1:06)
16.    Loneliness (1:26)
17.    The Baby Is Coming (0:45)
18.    Highlanders Visit Doug and the Baby (2:08)
19.    The Final Game (Scotland the Brave) (2:41)
20.    Tension Mounting (2:20)
21.    Cain Fires Puck At Hyrum (3:52)
22.    Doug Spares Cain / The Final Punch (1:58)
23.    I Hate This F@#$ing Sport (0:35)
24.    The Last Of The Enforcers (1:09)
---
More from this collection