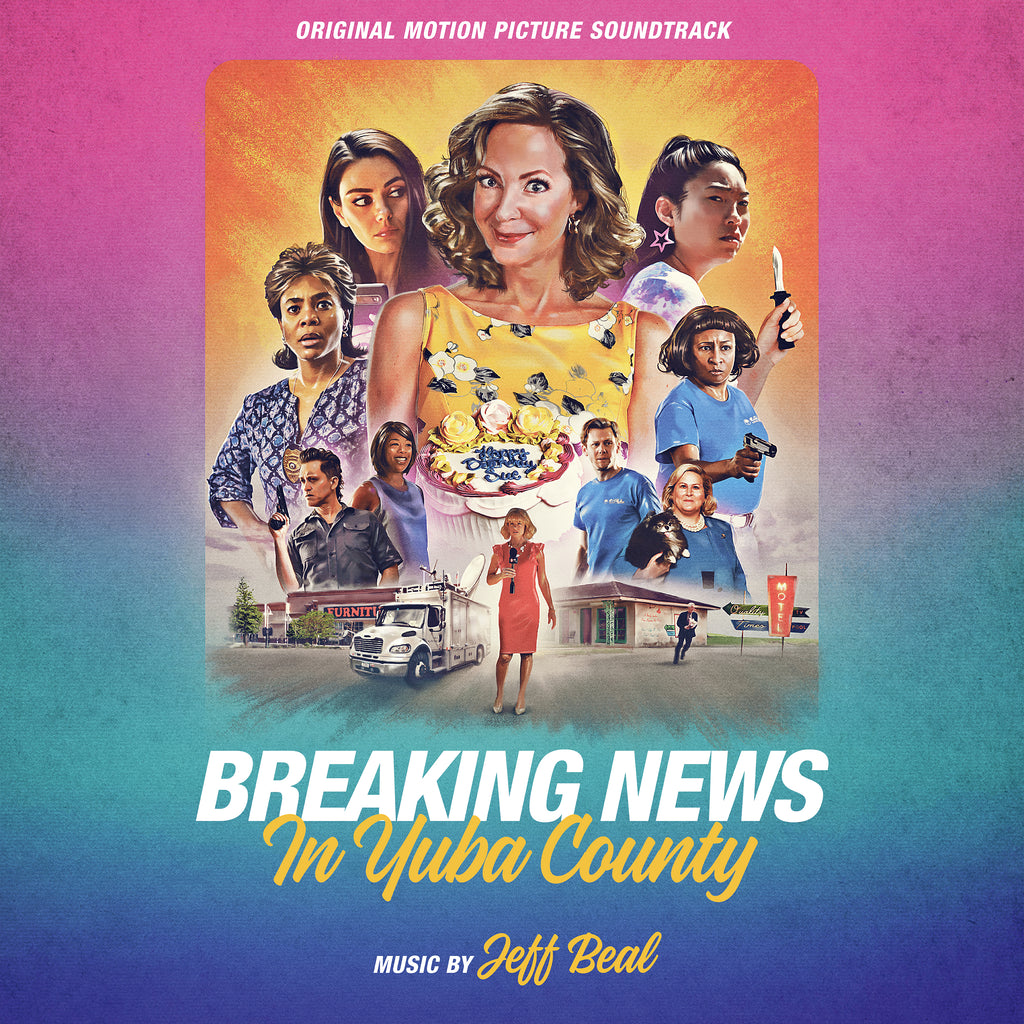 Notefornote Music
Breaking News In Yuba County by Jeff Beal (CD+24 bit digital bundle)
CD & digital download. 
The first 50 orders will receive an autographed booklet signed by Jeff Beal.

Breaking News In Yuba County is the newest movie from acclaimed director, Tate Taylor (The Help, Get On Up).  The movie stars Allison Janney, Mila Kunis, Regina Hall, Awkwafina, Wanda Sykes, Ellen Barkin, Matthew Modine, Samira Wiley, Clifton Collins Jr., Jimmi Simpson, Bridget Everett and Juliette Lewis. 
The movie revolves around a pencil pusher who tries to keep secret the death of her husband who suffered a heart attack when she discovered him in bed with another woman. Breaking News in Yuba County was released in theaters on January 29, 2021 by MGM/American International Pictures.
The soundtrack features the score by four time Emmy-winning composer Jeff Beal (House of Cards, Console Wars, Shock And Awe, Challenger: The Final Flight, Appaloosa, Jay Sebring...Cutting To The Truth, Athlete A). 

Breaking News In Yuba County
Music By Jeff Beal
NFN Catalog # NFN-9047
UPC: 850001545402

CREDITS:
Music By Jeff Beal
Featuring the Covid-19 WFH Orchestra.  
Produced, orchestrated, recorded and mixed by Jeff Beal 
Additional Orchestration - Marco Valerio Antonini
Thanks to; Richard Kraft, Laura Engel, Fritz Meyers, Riva Marker, Jake Gyllenhaal, Jon Poll, John Norris, Franklin Leonard.  Very special thanks to Tate Taylor - for guiding this wonderfully wacky creative journey for us all.  
Executive Producers for Notefornote Music: Bryon Davis
Art Director:  Scott Saslow
From the director:
Breaking News In Yuba County about broke me when trying to find our way through sound.  Never in my career has a movie been more difficult in finding its tone and pace which requires the perfect score.  Jeff saved the day.  I'm forever grateful to Jeff for the masterful touch he brought to Yuba County.  -Tate Taylor

Track List:
1 Sue's Birthday Cake
2 You Are Important
3 The Gloria Michaels Show
4 Heading Into The Office
5 Where's Carl?
6 The Bank
7 Buying Flowers
8 Heart Attack
9 Take Care Of Everything
10 Gloria Works The Room
11 Someone Destroyed My House
12 It's Go Time
13 Gloria's Studio
14 The Law
15 Some Kind Of Struggle
16 The Bowling Alley
17 Steve's Fate
18 We Got A Body
19 I Know Where Emma Is
20 Conspiracy Theories
21 My Story Matters
22 Harris Investigates
23 My Half Sister
24 The Jewelry Heist
25 Uh Oh, Sue's Here
26 Who Are You?
27 Ring A Bell
28 Before He Was Taken
29 Sue's Ransom Note
30 Where's Miss Norton
31 Mina Makes The Switch
32 Capture The Emotion
33 Interrogation
34 Scream And You're Dead
35 What Do You Care About
36 So Much Trouble
37 You Were Miked
38 I'll Tell You The Truth
39 Digging Up Carl
40 I'm Gonna Have Twins
41 A Narcissist Requiem
42 You'll Be Famous
---
More from this collection