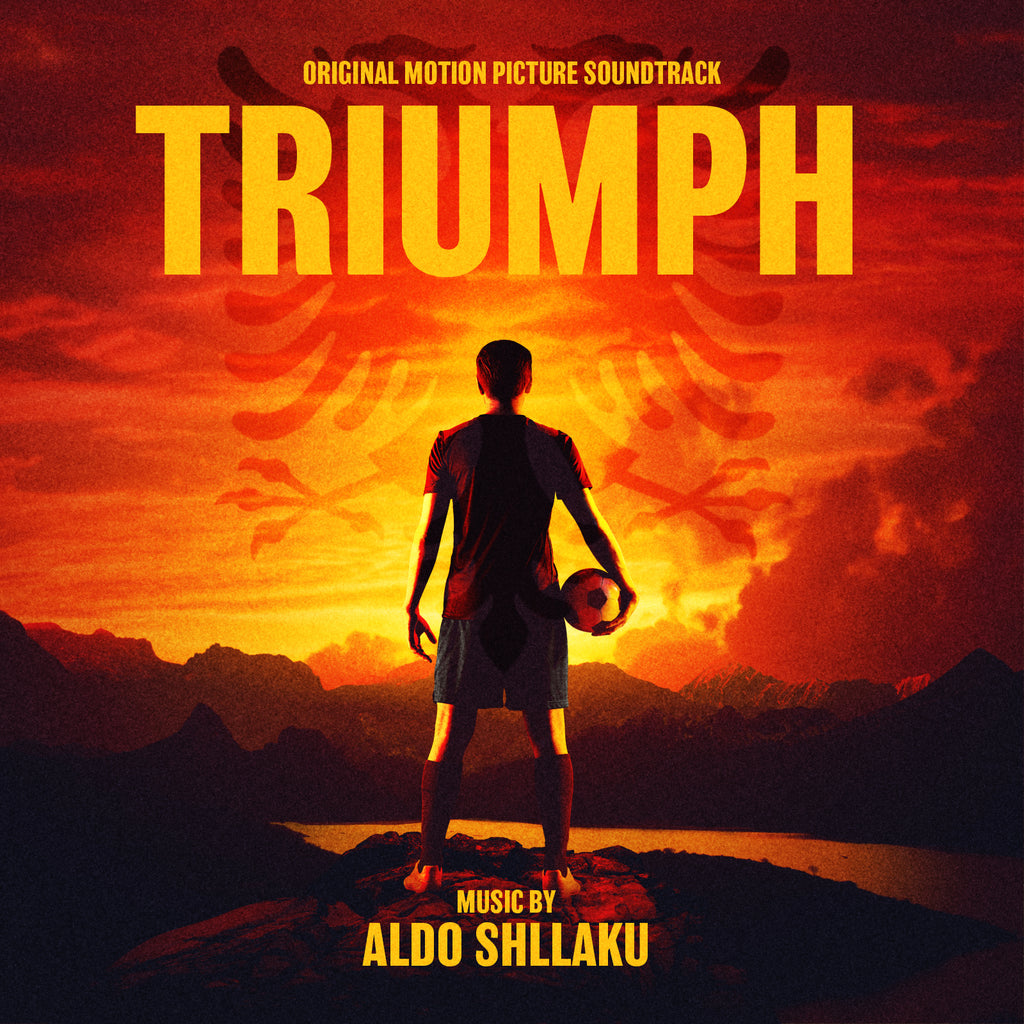 Notefornote Music
Triumph by Aldo Shllaku (CD+24 bit digital bundle)
Sale price
$1.99
Regular price
$9.99
CD & 24/48khz digital bundle.
On October 14, 2014 the two Eastern European countries of Albania and Serbia faced off on the soccer field in the Serbian capital of Belgrade. With Albanian fans not permitted to attend the game due to purported safety concerns, the stadium full of Serbian fans echoed racist chants and death threats. Tensions rose to a boil when a drone carrying an Albanian flag flew above the players and onto the pitch. Angered fans rushed the field, attacking the Albanian players, forcing the match to end. A history of political tensions, war and genocide is explored as we follow the journey of the Albanian National Team to their first EURO cup appearance.  Featuring a score by Aldo Shllaku.  

Aldo Shllaku is an award winning classically-trained film and TV composer. He holds a degree in music composition from Université de Montréal, during which time he was part of an international selection of composers for the New Music Sessions, in collaboration with Le Nouvel Ensemble Moderne. Once in Los Angeles, Shllaku completed the prestigious Scoring for Motion Pictures and Television graduate program at the University of Southern California (USC), where he was awarded the program's highest honor, the Harry Warren Award.

He has composed music for many feature films, documentaries, and TV programs. His music can be heard in films such as, "Lupin III," "Paranormal Asylum," "The Blue Hour," "Downrange" and "On a Dark and Stormy Night." Shllaku's music scores have received the Gold Medal for Excellence at the Park City Film Music Festival for "Pirate for the Sea," "Still Water," "Trespassing," "A Kiss on the Nose" and "Paperboat."

Shllaku's creations are an amalgam of the traditional and modern, an eclectic musical vocabulary presented through orchestral artistry and the latest in music technology, resulting in music scores that have been described as evocative, sophisticated, poignant and ultimately satisfying.
Triumph
Music Composed by Aldo Shllaku
NFN Catalog # NFN-9023
UPC: 850001545228

Track List:
1 In Serbia
2 The Rematch
3 The Interview
4 The Coach
5 Vs. Portugal
6 The Team Captain
7 The Monument
8 For The Red And Black
9 Belgrade
10 Game On
11 Field Incident
12 The Drone And Fans
13 Personal Loss
14 Vs. Armenia
15 Denmark And Portugal
16 Preparations
17 Albania Vs. Serbia
18 De Biasi
19 It's A Start
20 Defeated
21 Must Win
22 Let The Games Begin
23 Journey's End
---
More from this collection