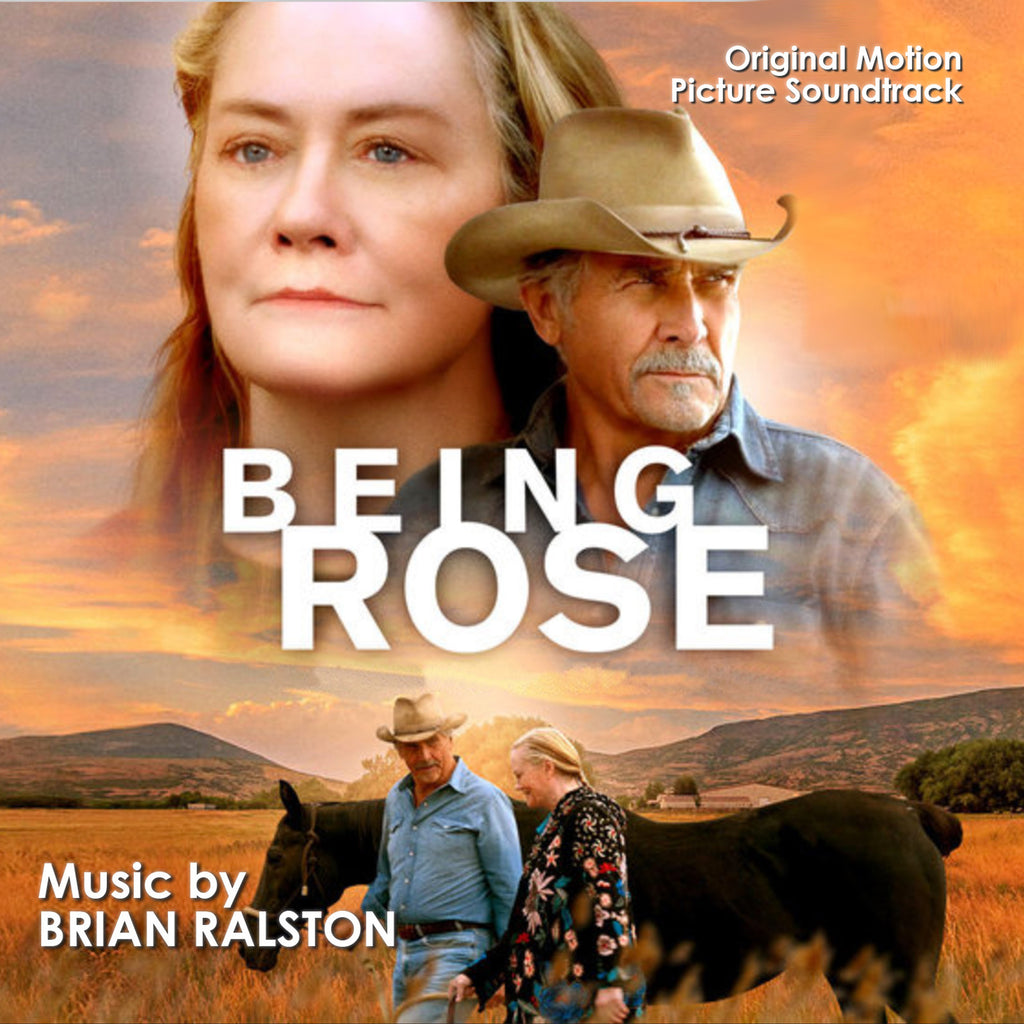 Notefornote Music
Being Rose: Original Motion Picture Soundtrack by Brian Ralston (CD+24 bit digital bundle) CLEARANCE
Sale price
$2.99
Regular price
$9.99
Available now!
You get a physical CD with a 24 bit download upon purchase.  Listen to the download while the CD is shipped to you!
Presenting the original motion picture score from the Cybill Shepherd and James Brolin film Being Rose. 

After being diagnosed with serious health issues, a woman goes on a road trip in her motorized wheelchair to search for her estranged son. Her life changes when she meets a handsome cowboy.  Composer Brian Ralston delivers a beautiful score replete with acoustic guitars, mandolins, and flutes ~ imbue Rose's narrative with moods that range from melancholy to hopeful, from meditative to ethereal.
About the composer, Brian Ralston:
Los Angeles-based composer and conductor Brian Ralston has spent the past 15 years creating compelling, heart-pounding, uplifting, and beautifully melodic tracks that delight and inspire audiences. His creative gifts lend themselves to an extremely rich and beautiful sound that can not only be seen, but felt throughout his works. 
After his parents enrolled him in piano lessons in first grade, Ralston developed an infatuation with the trumpet that would eventually lead him to tour Europe with the Pasadena Youth Symphony Orchestra and the Sound of America Honor Band as principal trumpet. For two years he was selected as one of the top ten best trumpet players in Southern California, performing with the Tournament of Roses' Herald Trumpets. 
Ralston's early aspirations for scoring films began in junior high school when he began re-scoring films using an old keyboard and VHS player. He developed a distinct personal sense of musical compositions, finding favorites in film scores such as drama fantasy "Willow", action-thriller "The Rocketeer", and science-fiction film "Krull", all scored by American composer James Horner. Horner's ability to create a captivating, infectious melody through his interpretation of what was on screen, inspired Ralston to pursue his career in film music composition.
After studying film music composition and conducting at the University of Arizona under film/TV composer Jeff Haskell, Ralston completed graduate level work in the Scoring for Motion Pictures & Television program from the University of Southern California in 2002. His studies and musical background sparked an extraordinary desire to enhance the heart of a film's narrative with the language of music.
Ralston is best known for his work on the film score for "Crooked Arrows" (20th Century Fox), the first mainstream Hollywood movie about lacrosse, starring Brandon Routh ("Superman Returns") and Gil Birmingham ("Wind River", "Hell or High Water"), directed by Steve Rash ("Buddy Holly Story", "Can't Buy Me Love"). The score reflects richly thematic melodies set against the thrill of victory and the pains of defeat in the action-packed sports drama, which has won him much praise within the film community. Of Brian's Crooked Arrows score, Daniel Schweiger of Film Music Magazine says, "It's this kind of constantly surprising depth and sense of sports adventure that will hopefully let "Crooked Arrows" fly Ralston straight, and deservedly into the big leagues with his terrific score that's seemingly shot out of from nowhere."
Most recently, Ralston worked on the upcoming intimate score to the dramatic love story "Being Rose", starring Cybill Shepherd, James Brolin, and Pam Grier which will hit theaters nationwide January 2019.
Ralston lives with his wife, Heather and daughter, and makes time to give back to future generations of composers by serving as an instructor for the UCLA Film Scoring program. He also hosts the SCOREcast podcast for film composers.  An industry insider show discussing all facets of the entertainment industry from a film composer perspective that averages 50,000 unique downloads per episode.
Being Rose
Original Motion Picture Soundtrack
UPC: 850001545082
NFN-9009

TRACK LIST:
1 Prelude
2 The Journey Begins
3 Falling In Love
4 Spa Retreat
5 Meet Rose's Guide Lily
6 Lily's Wisdom
7 June
8 Leave Something Behind
9 Rose Meets Bonnie
10 In Love With A Cowboy
11 Rose's Letter
12 Tension
13 I'm Dying God Damn It
14 Rose's Instructions
15 July/Surprise Me Lady
16 Rose Misses Max
17 Rose Misses Max (alternate)
18 Max Misses Rose
19 I Am Not Letting You Go
20 September/The Long Car Ride
21 The Journey Ends
---
More from this collection