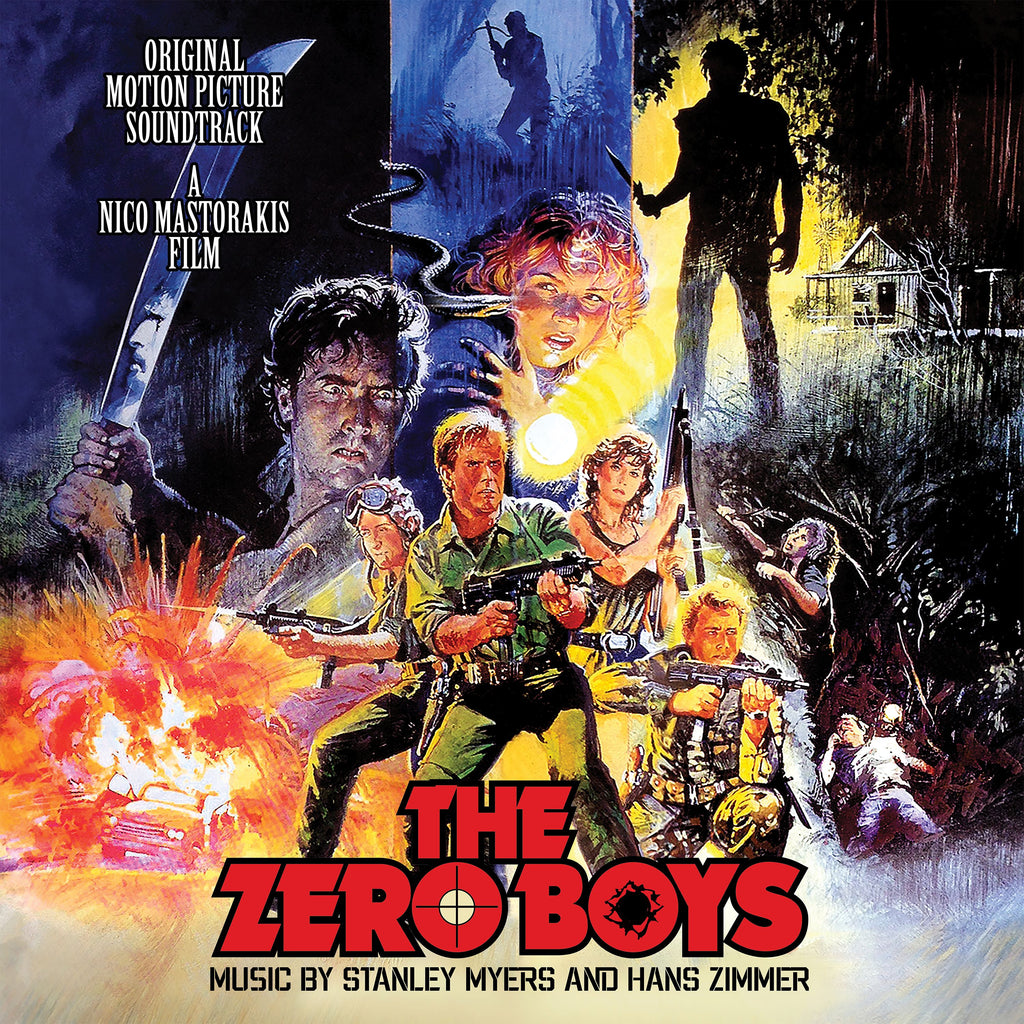 Notefornote Music
The Zero Boys by Stanley Myers and Hans Zimmer (CD)
Shipping Now!
Limited edition of 1,000 copies. 

The 1986 film, The Zero Boys is an action/horror film about a group of friends who travel to a wilderness area to play a survival game. Soon they unexpectedly find themselves in a real-life survival situation.  The movie stars Kelli Maroney, Daniel Hersch and Jared Moses.

Featuring music by Stanley Myers and Hans Zimmer and never before released on CD.  Previously only released by Arrow Films on vinyl this release features the complete score.  This is a great 80s era score augmented by some great orchestral passages.
The Zero Boys
Original Motion Picture Soundtrack
Music Composed by Stanley Myers and Hans Zimmer
NFN Catalog # NFN-1027
UPC: 850001545488

Music by Stanley Myers & Hans Zimmer

Music Recorded at Lillie Yard Studios, London
Electronic Music : Hans Zimmer
Executive Producer for Notefornote Music: Bryon Davis
Art Design: Herman Owen
Mastered for Notefornote Music by James Nelson at Digital Outland

Fully licensed & approved to Notefornote Entertainment by Omega Entertainment, Inc. 
(c) (p) 1986, 2021 Omega Entertainment, Inc.

Track List:
01 Main Title 2:04
02 For A Few Dollars Less 3:30
03 Root Canal Rock / Back In The Van 2:55
04 Approaching The House / Come On You Guys / Unhappy Birthday / Body In The Bath 2:56
05 Zero Hero / Zero Romance 1:14
06 Voyeur's View / Funny Bone / Non Starter 2:09
07 Barnstorming / Someone Is Watching / Looking For Trish 2:25
08 Voices In The Barn / Video Games 2:10
09 Open The Trunk / Behind The Curtain / Trish Is Missing / Blow The Locks 2:45
10 Hidden Camera / More Video Games / Trish Comes Back / Head Sorbet 2:32
11 Trashing The Car / I Hate / Everybody Out / Gothic Trees 2:48
12 Here Comes The Machete 2:27
13 Stay Back / Guns And Arrows 1:33
14 Looks Safe To Me / Laughing And Limping 1:41
15 Rope Trick / In Reverse / Slithering 2:13
16 Chase With Machete 2:23
17 Hot Water / The Last Killer 2:25
18 End Titles 1:27
---
More from this collection