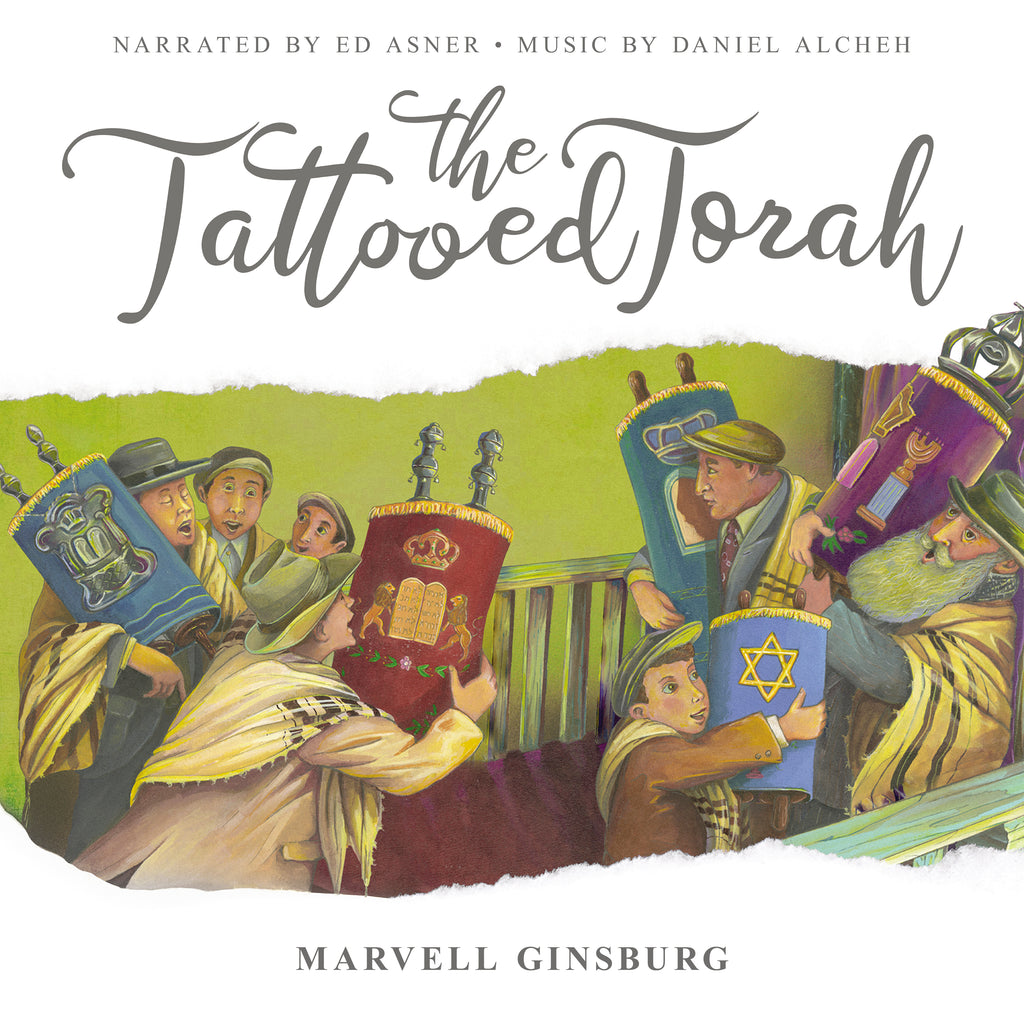 Notefornote Music
The Tattooed Torah (Narration & Music) Narrated by Ed Asner / Music by Daniel Alcheh (24 bit digital download)
DOWNLOAD ONLY.  All purchases include a 24/48 download of the score and will be delivered after purchase.

10% of all proceeds of The Tattooed Torah soundtrack CD or digital download will be donated to the Holocaust Museum of L.A. and the Holocaust Documentation & Education Center.
The Tattooed Torah is an animated short film based on the book by Marvell Ginsburg that has been educating children about the Holocaust for over 30 years.

Narrated by the late Ed Asner and featuring a riveting and beautiful score by composer Daniel Alcheh.  For 2 decades Composer Daniel Alcheh (pronounced al-SHEA) has written music for concert halls, feature films and animation, documentaries, TV shows and countless commercials. Along with producer Elliot Hunt, he owns the music and audio-post house alcheh&hunt. He is also the co-founder of the music production unit Sonic Vault, which offers music, sound design and voice-over services to international content producers of kids animation and live action.

His feature film work began In 2001, when he was brought aboard as score producer for Dover Kosashvili's feature film Late Marriage, the highest-grossing Israeli film of the decade, one of Entertainment Weekly's Ten Best Films of 2002 and Newsweek's Top 15 Films of 2002. Among his recent scores are the Chinese 3D sci-fi feature Impossible, which stars several of the China's biggest stars and opened on 20,000 screens, and The Trouble With Bliss, starring Michael C. Hall (Dexter), Lucy Liu (Elementary, Charlie's Angels), Peter Fonda (Easy Rider), Brie Larson (Room, 21 Jump Street) and Chris Messina (Vicky Cristina Barcelona). The film's score was released on the Sony Classical label. His upcoming score is The Tattooed Torah - an animated, holocaust tale based on a children's book and narrated by veteran actor Ed Asner. Supported by Spielberg's USC Shoah Foundation, the educational film has been dubbed and translated into several languages and features a grand score written for large orchestra and choir.
The Tattooed Torah (Narration & Music)
Narrated by Ed Asner, Music By Daniel Alcheh
NFN Catalog # NFN-9042-N


Album produced by Daniel Alcheh and Marc Bennett

Original music composed and conducted by DANIEL ALCHEH
Narrated by ED ASNER

Performed by THE BOWTIE ORCHESTRA and CHOIR
Vladimir Podgoretsky, Director
Concertmaster: NATALIA KOVALEVSKAYA

Recorded at Mosfilm Music Studio, Moscow, Russia
Recording Engineer GENNADY PAPIN

Violin solo on The Tattooed Torah Theme (track 2): OLGA CHEPIZHNAYA

Additional solos
THOM ROTELLA, guitars
NIV ASHKENZI, violin (tracks 5 & 15)
LEAH KOHN, bassoon (track 13)

Score mixed by ELLIOT HUNT
Additional mixes: GENNADY PAPIN

Orchestrated by ERIK LUNDBORG & DANIEL ALCHEH
Note preparation: Black Ribbon and Douglas Romayne

Session photographer: ULIA KOROLEVA
Executive Producers for Notefornote Music: BRYON DAVIS
Art Director: SCOTT SASLOW
NOTE FROM THE COMPOSER:
I am the son of a Holocaust survivor, and both my parents' families perished in the Nazi camps. So I was at once excited and apprehensive when asked to score The Tattooed Torah. This was more personal than just a scoring job, and I wanted to be sure I could do justice to this touching story that spans generations and continents. After conversations with director Marc Bennett about different instrumentation options I started sketching and decided that by means of large orchestra and choir I could convey the beauty, pain and inextinguishable spirit of European Jewry during those times.
The world is always facing challenges of one kind or another, and whenever economic, social and racial tensions heat up anywhere, antisemitism seems to appear part and parcel, rearing its ugly head. As the last survivors pass away, the importance of Holocaust education for kids and the need to preserve the memory of what happened in Europe under the Nazi regime is as relevant as ever. 
It was a joy and a true privilege to work with Marc, producer Lisa Efferess, the Kopin family and the whole team. We all gained an enduring friendship and hope the music reaches the hearts of children and adults everywhere and lives on with the story of the little Tattooed Torah. 
Daniel Alcheh, June 2020
Track List:
1 PART I

2 PART II
3 PART III
4 PART IV
---
More from this collection